Welcome to Luck of the Irish CASH Giveaway!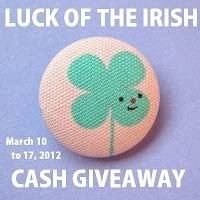 The Coffee Chic, Africa's Blog and all other amazing bloggers have teamed up to give three lucky individuals a chance to win some cash for St. Partrick's Day.
A total of $270 will be given away to the winners!
1st prize: $190 Paypal Cash
2nd prize: $50 Paypal Cash
3rd prize: $30 Paypal Cash
This giveaway will run from March 10 to 17, 2012. Open worldwide.
/*{literal}{/literal}*/
a Rafflecopter giveaway
You need javascript enabled to see this giveaway.
Time to show some lovin' to all the sponsors! Visit them and try to enter some of the other giveaways. Win exciting prizes!
Coupons and Freebies in TX, Learning to be Frugal, I Love Coupons & Giveaways, ExtremePersonalMeasures, Mommy's Crazy 4 Coupons, My bric-a-brac, Couponing 4 You, Koupon Krazed, My Frugal Mom, Eye Heart, TheItMom.com, Pinching Pennies with Heather, The Mystic Kitchen, Jenns Blah Blah Blog, Pink Purses Adventures, Bloggity Blog, Savingformyfamily, Mary's Cup of Tea, My Charmed Mom, Feed Your Pig, Andie's Adventure, BlogGirl.Us, The Kawaii World, One Frugal Chick, Money Saving Secrets Blog, The Jolly Blogger, Whole Lotta Mama, Crazy for a Deal, Celebrate Woman Today, Kara's Deals and Steals, Hearts content of a mama, Love home grow garden, Rona's Fun Designs, Women's Choice, Rona's Reviews, GivingNSharing, Nita's Corner, Insights by April, A Frugal Floridian, Fishful Thinking, Finds For Friends, The Homeschooling Blog, Captive Embroidery and Crafts, Our Share of Crazy, B&T Sweet and Sassy Savings, The Second Thought, Beth Ann & Jessica's Helpful Savings, All About the Mommies, Time for Snack, Locomotion of expressions, Juliana's Bits & Pieces, Green Baby Goods, Freebieprincess: Stick with Me and Get it Free, , Momanthology, Mommy's Block Party, Mark Your Savings
Sidetracked Mom's Blog, Exotic Philippines, Someday I'll Learn, Dazzling Daily Deals, Coupon Preacher, Mom Blog Society, Concert Katie , Coupons For Wisconsin, Grandma's Having Fun, My Randomness, ThriftyToday, oregoncouponguide, Coupon Queen of Texas, Mommy's Memorandum, SmallTownSavingMomma, Ezeebuxs, Debbie Does Coupons, Bay Area Mommy, Fabulous Deals and Steals