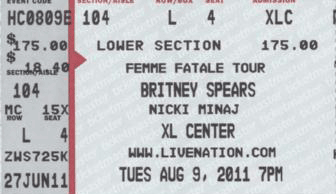 Tuesday night Britney Spears brought her Femme Fatale tour to the XL Center in Hartford, CT!  It had been quite some time since I have seen her and I have to say I was a bit nervous going in to it, especially since the tickets were so expensive!
"DJ Pauly D" started the evening with a 30 minute DJ set. Everyone was standing up and screaming for him and I really had never seen such a thing with an opening act.  But I am always complaining about how openers don't get people pumped up – Pauly definitely did.  It was about this time that some girls "snuck" into the seats in front of us and waved their arms in the air like they just didn't care.  Unfortunately with all the ushers on the floor, there wasn't much that could be done about them and they managed to stay there all night snapping away with their cell phone cameras.
Next up was Nicki Minaj.  I'm really not familiar with her at all – but her set was very entertaining.  There was a side story going on where she was fighting her Nemesis (named, appropriately, Nemesis) and the dancing and all that for the songs would go along with the story.  It kept me interested even when I had no idea what she was singing about and I really like that.  Everyone else seemed to really be in to her set as well.  During her last song, she and her dancers sprayed the crowd with silly string!
After Nicki's set, a countdown appears on the screens to the side of the stage and a light up "Femme Fatale" sign was dropped.  The countdown ended and it was time for the main event – Britney, bitch!   While the choreography of Britney was a bit on the watered down side based to what I was used to, her group of dancers were there to help round everything out.  The stage was very elaborate with several lifts and stage doors strategically placed throughout.  There were multiple costume changes while we were treated to a video of a guy who was looking to capture Britney.  Similar to Nicki, we had this plot line that went along with the performances.
The setlist was predominately newer material (aka the stuff I am not as familiar with), with some older singles mixed in.  The show was highly entertaining, definitely kept your attention and I'd dare say worth the price of admission. Was she singing live? No. Was she dancing her ass off? Not really.  But I'm pretty sure almost everyone who bought tickets knew going in to the show what they could expect from Britney and I think she met, if not exceeded expectations for many.
The only thing I thought was strange – the last song was a remixed version of Til The World Ends featuring Nicki Minaj.  Why not have Nicki come out and perform instead of just having her up on the screen?  We know she was there since she had just performed! That would have brought the whole show full circle.
Setlist under the cut!
Nicki's Setlist:
Roman's Revenge
Did It On 'Em
Up All Night
Bottoms Up
My Chick Bad
Your Love
Monster
Save Me
Bedrock
Check It Out
Where Them Girls At
Moment For Life
Super Bass
Britney's setlist
Hold It Against Me
Up N' Down
3
Piece of Me
Big Fat Bass
How I Roll
Lace and Leather
If U Seek Amy (Cabaret Remix)
Gimme More (Egypt Remix)
(Drop Dead) Beautiful
Boys (Remix)
Don't Let Me Be the Last to Know
…Baby One More Time
S&M
Trouble for Me
I'm a Slave 4 U
I Wanna Go
Womanizer (Eletro/Trance Remix)
Toxic (Japan Remix)
Till the World Ends