A special post for my trip in May to Tulsa. Mainly because my May regular post was big enough as it was without all this Hanson stuff 🙂  A couple of travel pages w/ plane tickets,  a couple of sight seeing pages and one for the concert.  There was no way this show trip was being limited to one page! (Although technically there is only one page devoted to the show!)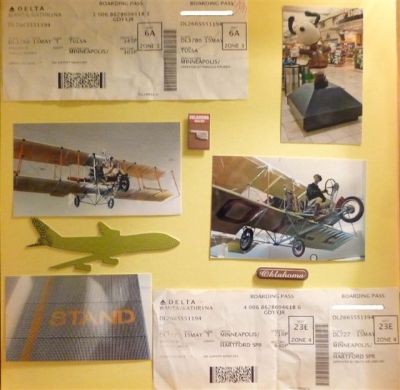 These aren't in the right order lol these are photos from my return trip. Tulsa airport to Minneapolis.  One of the planes was in Tulsa and the other in MN which I thought was interesting. Snoopy was also in the MN airport.  That airport is MASSIVE.
Tags from when I picked up my car, hotel room key and the escalators at the hotel.  I thought I had printed up more pics from inside the hotel room but I must have had a brainfart when ordering and all I ended up with were the escalators!
Some sightseeing!  The left 3 are at the Blue Rose Cafe (Hanson used to sing at the old location but since it was a bar and they were too young to get inside they stuck them near the dumpster)  The top right is the Golden Driller which is one of my favorite things in Tulsa and the bottom right is the house that Hanson grew up in.  It has a for sale sign outside and rumor has it that it has been sold so it will be interesting to see how the new owner's feel about Hanson fans showing up every time there is a members event…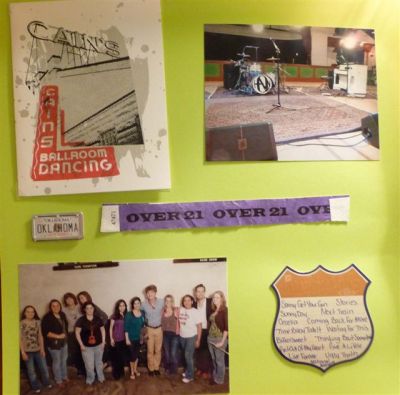 The concert! We were front row and not allowed to take photos during the show, so I snuck a quick photo of Zac's drums and Taylor's piano.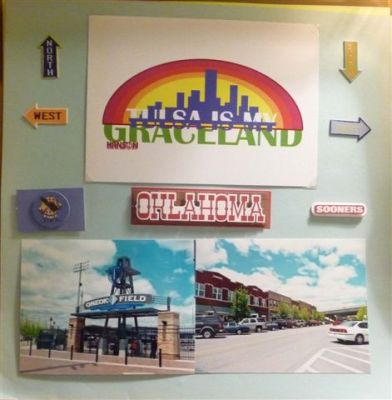 Some sightseeing before the concert.
Breakfast the first day in Tulsa. Dilly Deli.  I ordered the Jed, a cinnamon bun the size of my head.  It was indeed as large as my head… and the Blue Dome which is I believe a Route 66 historic landmark.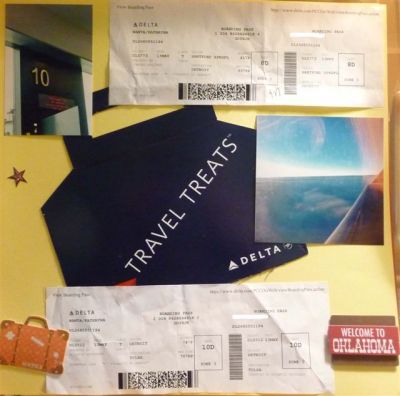 Travel TO tulsa… by way of Detroit.  Funny,  I have more photos from the MN airport when I had much less time there!