Tuesday night Carrie Underwood brought her "Play On" tour to the Arena at Harbor Yard in Bridgeport, CT. She brought with her Sons of Sylvia and Craig Morgan as support.
Sons of Sylvia hit the stage about 7:30 and played an approximate 30 minute set. I really enjoyed them and had hoped they would announce that they would be doing a Meet & Greet after their set or after their show, but they didn't say anything.
Craig Morgan was up next and played about 45 minutes. He was just a little bit too country for my tastes, though the crowd really seemed to enjoy him. I was impressed though when his mic started sounding incredibly static-y, and then went out completely and he didn't miss a beat going to grab a mic from his backup singer to finish the song (and set!) with.
Then it was time for the main event – Carrie Underwood! I have loved Carrie since the beginning of Idol (I picked her as my favorite because she was from Oklahoma!) but have never had the chance to see her live before, I didn't even go to the Idol tour when she won.
Carrie came out from below the stage sitting on a couch to sing Cowboy Cassanova. She worked the stage and sang quitter and Wasted, and sat down on the stops for I Know You Won't, where she belted out THE most amazing note. Incredible.
For Some Hearts she was down on the "catwalk" (which was very short and stubby, as far as catwalks go) and played the guitar.
She sang Just A Dream with a huge pink poofy beautiful skirt on, on a swing. She then followed it up with her other tear jerker of a song, Temporary Home. She told about how she wrote it very quickly and it meant a lot for her and took her some time to be able to sing it without crying.
The entire All American Girl was sung on our "cat walk" near us, which was awesome and the lighting was perfect and I got a ton of amazing photos. Our seats were the 2nd row of the side section, we were about even with 6th or 7th row on the floor. She finished the set with So Small.
There was a small intermission of sorts with a video of Carrie walking on the screen, she was walking through different places, Oklahoma, Nashville, Hollywood and was then picked up by a blue pick up truck. Next thing we know, the truck is right next to us and she is flying up over our heads in this truck!!! It went to about halfway back on the floor while she finished up singing Country Road Take Me Home and made its way back around to the other side of the stage while she sang This Time.
Back on the stage she sang Undo It and then sang another song that was very special to her, her first single, Jesus Take The Wheel. After that she went into an amazing rendition of How Great Thou Art. It was very moving and I wish I had taken video of that as well, but I stopped once she was finished with Jesus Take The Wheel!
Then the moment we were waiting for since Sons of Sylvia left the stage earlier – they came back to sing What Can I Say with Carrie! My only complaint about this one was that I had wished the part Ashley and Carrie were standing on rotated during the song so I could see both of their faces at points.
For Change, Carrie had on a dress that was basically a LED screen and would do all sorts of special effects on the screen. It was a very nice touch. And then after the song was over she walked away from it and it stood standing. Either way, I was impressed with it.
Carrie came back over to our side to announce what the fanclub pick was going to be. (I felt like she gave our side a lot more love than the other) The screens weren't working right away, it was supposed to show the 4 categories and then show what one we had voted for. I had voted for 80s and 80s won! Carrie sang Dolly Parton's 9 to 5.
The end of the show was incredibly up beat and a great way to end the night, with a bunch of my favorites of her songs – Last Name, Before He Cheats and Songs Like This. She looked like she was having a blast on stage, going from one side to the other and dancing, as well as encouraging us all to dance.
The show ended about 11pm and was just an incredible night. I left so, so impressed. I was even considering going to the show this Saturday at the casino just to see it all again as surely there were details I had missed the first time – but it looks like it is SOLD OUT! Great for Carrie, not so great for me, but I'll survive 😉
If you get the chance to see this show – definitely take it – the tickets were very reasonably priced (ours were the most expensive bracket and were only about $60) and you get more than what you paid for with the effects and of course, the signing! Carrie is phenomenal.

Cowboy Cassanova
Quitter
Wasted
I Know You Won't
Some Hearts
Just A Dream
Temporary Home
Someday When I Stop Loving You
All American Girl
So Small
Country Road Take Me Home
This Time
Undo It
Jesus Take The Wheel
How Great Thou Art
What Can I Say (With Sons of Sylvia)
Change
I Told You So
Mama's Song
Fan Club Pick – 80s – 9 to 5
Last Name
Before He Cheats
Songs Like This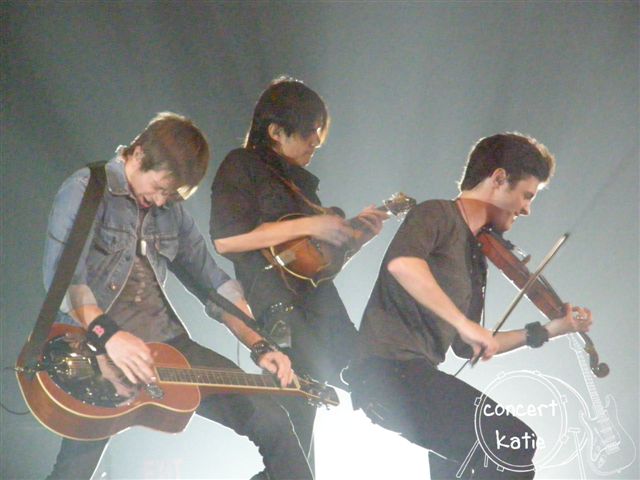 Sons of Sylvia